Gulf of Thailand Shipwreck Diving
Trips & Report
Written by Stephen Burton
Dive Centers - if you have any serious wreck trips coming up - have them posted here!
send me the details + photos to scubaenginer@gmail.com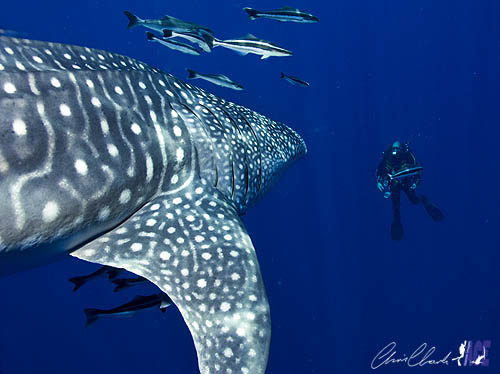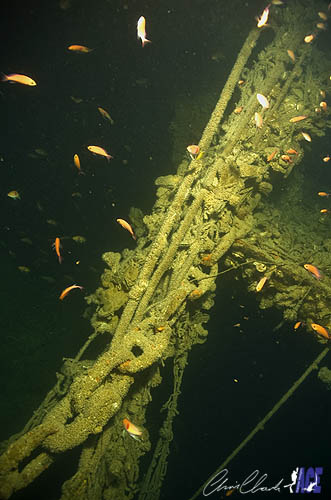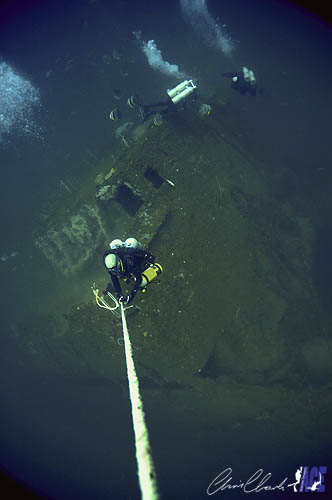 All images above, copyright of Chris Clark www.acemarineimages.com 'used with permission'
SHIPWRECK DIVE TRIPS - THAILAND 2013

71 Years ago today (10th December 1941) the HMS Price of Wales and HMS Repulse where sunk
Dive these and other outstanding, challenging offshore shipwreck sites with Koh Tao based 'TechThailand'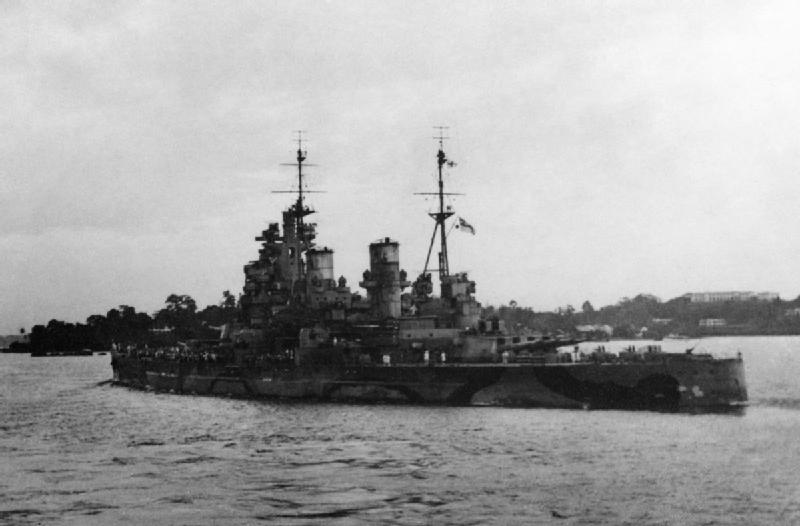 | | | | | | | | |
| --- | --- | --- | --- | --- | --- | --- | --- |
| Date | Location | Duration | Depts from | Featured vessels | Availability | Trip | Price in Thb |
| 2nd May | Andaman Sea, Malacca Strait | 10 Days | Phuket to Singapore | Exploration, Kuma, Haguro, Sun Vista | Spaces Available | T1 | 40000 |
| 12th May | South China Sea | 11Days | Singapore | HMS Repulse & POW | 2 Spaces CCR only | T2 | email |
| 23rd May | Palau Aur | 3 Nights 3 Days | Singapore | Recreational | GS Diving | R1 | email |
| 31st May | Palau Aur | 2 Nights 2 Days | Singapore | Recreational | GS Diving | R2 | email |
| 3rd June | South China Sea | 7 Days | Singapore | HMS Repulse & POW | Spaces / Charter Available | T3 | 55000 |
| 15th June | Palau Aur | 2 Nights 2 Days | Singapore | Recreational | GS Diving | R3 | email |
| | | | | | | | |
| 1st July | South China Sea, Gulf of Thailand | 13 days | Singapore to Koh Samui | Repulse, POW, Hatsutaka, Shigure, Taiyru Maru, USS LAGARTO | Spaces Available | T4 | 90000 |
| 18th July | Koh Tao | 3 Nights 3 Days 10 Dives | Koh Samui | Sail Rock, Chumpon Pinnacle, Sattakut And Other Local Dive Sites, Angthong Marine Park | Spaces Available | R4 | 19000 |
| 24th July | North | 3 Nights 3 Days | Koh Tao | Deep Wrecks Max 60 mtrs | Spaces Available | T5 | 30000 |
| 1st Aug | Koh Tao | 3 Nights 3 Days 10 Dives | Koh Samui | Sail Rock, Chumpon Pinnacle, Sattakut And Other Local Dive Sites, Angthong Marine Park | Spaces Available | R5 | 19000 |
| 11th Aug | East or South | 6 Days | Koh Samui | Deep Wrecks Max 80 mtrs | Spaces Available | T6 | 85000 |
| 22nd Aug | Koh Tao | 3 Nights 3 Days 10 Dives | Koh Samui | Sail Rock, Chumpon Pinnacle, Sattakut And Other Local Dive Sites, Angthong Marine Park | Spaces Available | R6 | 19000 |
| 27th Aug | North | 3 Nights 3 Days | Koh Tao | Deep Wrecks Max 60 mtrs | Spaces Available | T7 | 30000 |
| 5th Sept | Koh Tao | 3 Nights 3 Days 10 Dives | Koh Samui | Sail Rock, Chumpon Pinnacle, Sattakut And Other Local Dive Sites, Angthong Marine Park | Spaces Available | R7 | 19000 |
| 10th Sept | Gulf of Thailand, South China Sea | 13 days | Koh Samui to Singapore | Solimoes, USS LAGARTO, Taiyru Maru, Shigure, Hatsutaka, Repulse, POW, Exploration | 8 Spaces | T8 | 85000 |
| 22nd Sept | Malacca Strait | 8 Days | Singapore to Phuket | Sun Vista, Haguro | Spaces Available | T9 | 20000 |
Stuart Shaw & Simon Smith Web www.techthailand.com +44 (0) 7717 333000
Email:- Stuart@techthailand.com
Email:- Simon@techthailand.com
SHIPWRECK DIVE TRIPS - THAILAND 2012
<![if !vml]>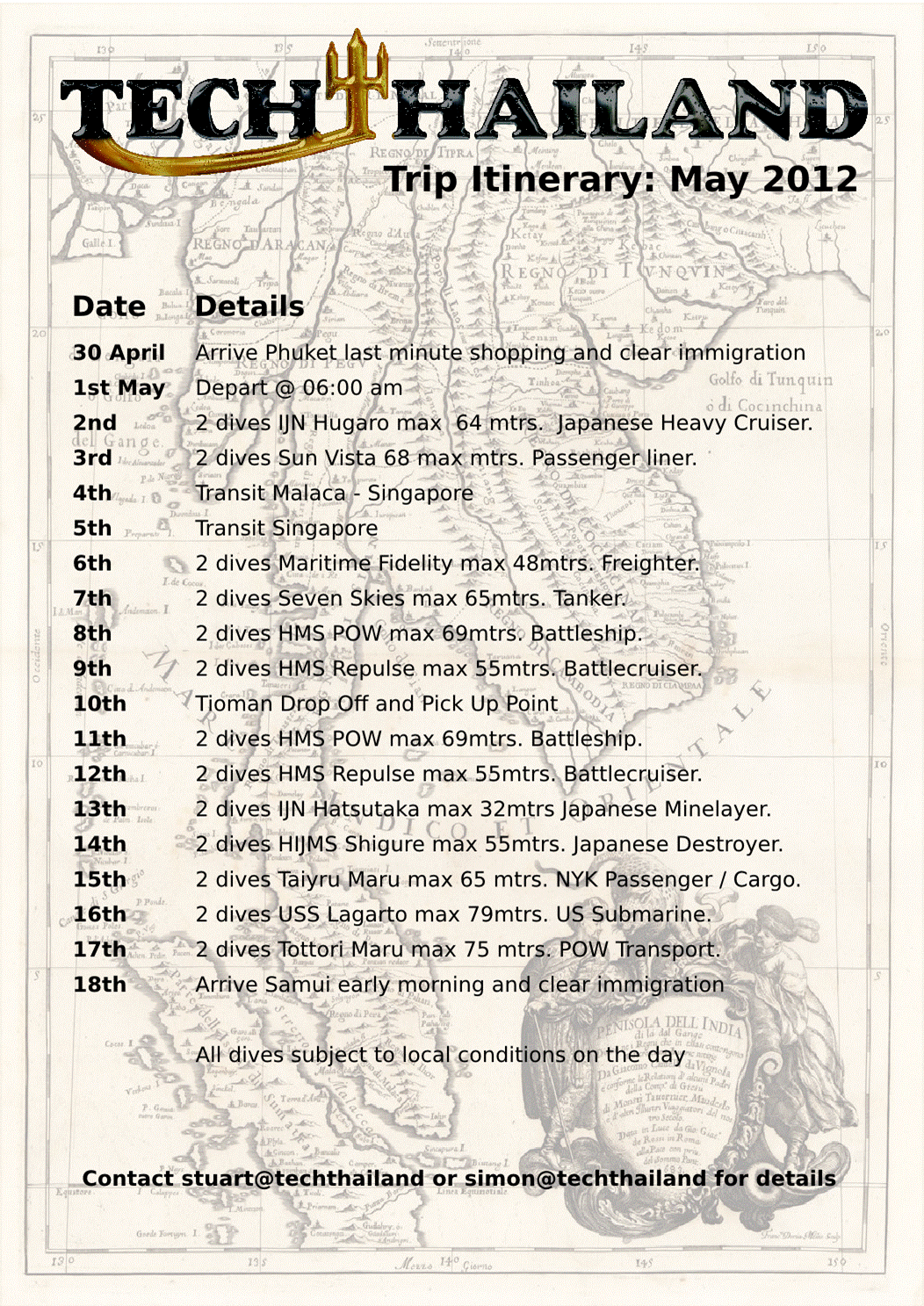 <![endif]>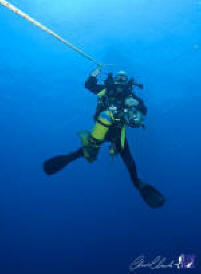 Jeepers, how deep is the wreck supposed to be?
30meters viz up and down and I still can't see it yet.

Up coming MV Tridents Trips - 18th May 2009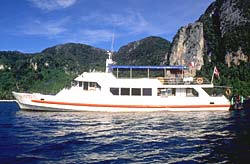 We have a great trip leaving Samui on May 18th, seven days of WW2 diving including USS Lagarto, Tottori Maru and hopefully some new Marus.
We're a bit short of numbers on this one so try and get some extra leave,
---
Latest MV Trident Trip
Feb 22 2009
Dear Divers,

The weather is good now and we're well into the new season.
We've just returned from our first charter with Submerged Productions from Belgium. After a slow start due to passports, airports and luggage handling, we dived the Akela, then continued eastwards into Cambodian/Vietnamese waters to search for the Araosan Maru.
The first mark 5 miles from the US submarine's numbers produced nothing, but after radioing local fishermen , we got another mark, one digit out and got a good return on the sounder.
The wreck was the Araosan Maru, easily recognized by the shape of the stern and her size, 7000 tons. USS Hardhead put three torpedoes into her amidships so she's very broken up and twisted. It's also obvious that Japanese wartime materials and construction methods weren't very good, she's a mess! She lies mainly on her port side in 55m, less than 40m to the top of the wreck.
On the way back to Samui we dived the Tottori Maru, built in good old Scotland 30 years before Araosan, she's in much better condition, despite Hammerhead's torpedoes.
In mid-March we have Richie Kohler and Co. again for a 7 day charter. We plan to look for Akita and Tairyu Marus, 4000 and 5000 tons, sunk by Dutch Sub 0-19in 1942.
Let us know when you're free for a trip and we can normally put a trip together with our regulars.
Yours,
Yours, Jamie Macleod
MV Trident Shipwreck Research Vessel
---
Subject: FW: O-19 Submarine Trip - December 2008

New targets

Just a thought , but if we have two extra days and the weather is good, and
fuel prices remain stable we could go a bit further and do something
different.

I have two fisherman's marks 8nm from the Dutch navy's marks for Akita and
Tairyu Marus. Both in about 53m.

itinerary would look like this.

Leave Samui evening 13

Day 1/ Solimoes, huge post war freighter , max depth 55m

Day 2/3 USS Lagarto, US submarine, max depth 73m

Day 4,5,6,search for new Marus, both are big ones between 4-6000tons.depth
55m approx

Days 7,8 make our way back, got some marks on eth way home too, max 70m

Back morning 22nd

I thought the history may be interesting to you , seeing as you're next door
to the Duchies.

Only an idea, but it'd be a terrific trip if the weather is good etc

Try the you tube link below

http://www.youtube.com/watch?v=yF0OVO1QXJ0 "Sinking of O19 by USS Cod"

Yours, Jamie Macleod
MV Trident Shipwreck Research Vessel
---
Kinrei Maru Trip
17th June 2008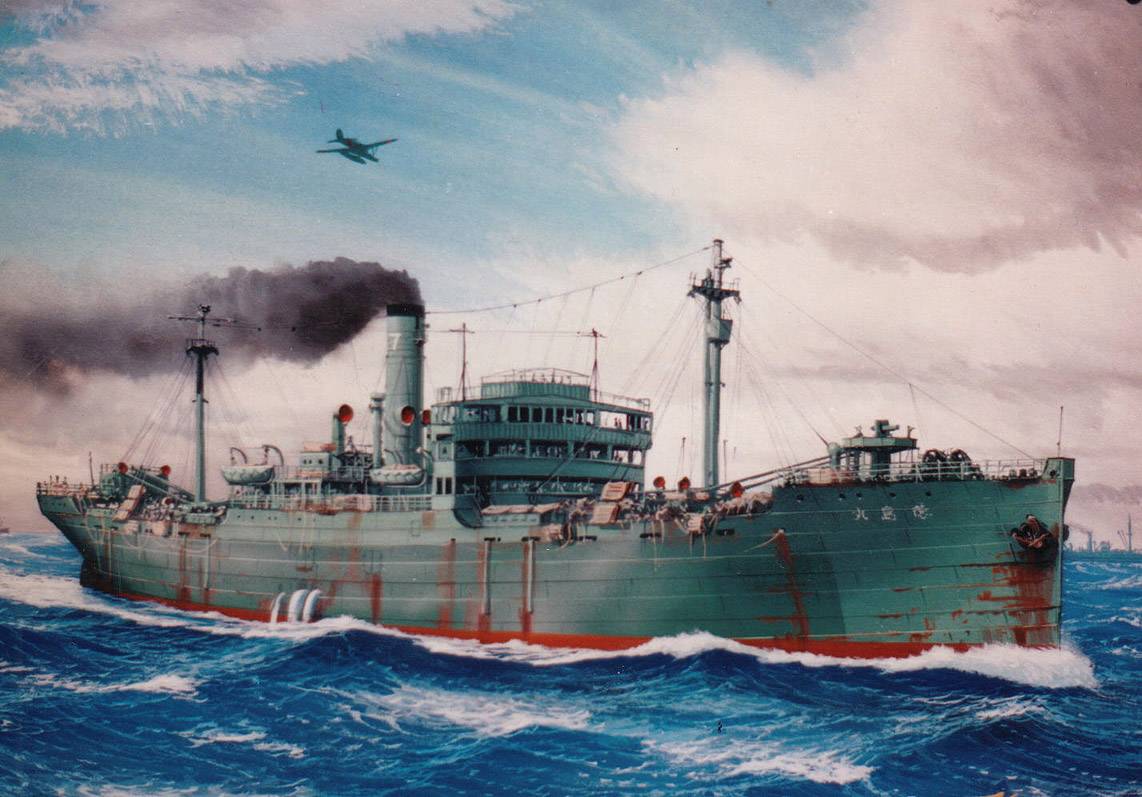 Dear Divers,
We're off to the USS Lagarto and then hopefully Kinrei Maru in a few days.
This trip is nearly full but we have a trip in august visiting Seacrest, Tottori and some very promising new marks . there's lot of spaces available for this one.
Leaves Koh Tao on August 1st , six full days of diving, returning late on the 7th
We've been diving with Bruce Konefe lately, a cave nutter who's been finding and exploring Thai caves for years. We're happy to offer a joint operation to visit the caves in the south. We can provide all the logistical support, Bruce the training and expertise. If you're interested especially in our down time in Nov/Dec let us know.
Yours, Jamie Macleod
MV Trident Shipwreck Research Vessel
---
USS Lagarto visit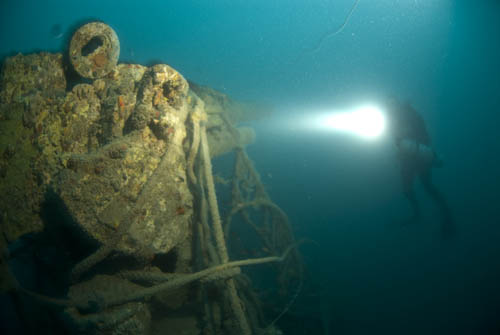 Dear Divers,

Our first, and probably only, trip to the USS Lagarto this year went very well.

We started off at a new site near Koh Kra, 100nm south of Samui, and a

perfect half-way stop. The wreck was supposed to be a large steel wreck in

two halves and it was exactly that. Unfortunately the water is shallow, less

than 30m, murky and both halves of the wreck were covered in nets. Not

exactly world class but all

¹s not lost, we have a bloke here on Koh Tao who specializes

in horrible wrecks like this, I¹ll give him the numbers.

We continued on to the Solimoes, three great dives on our biggest wreck .

Next was the USS Lagarto for four dives to document her current condition, we arrived

a little late for the fourth of July, but close enough. We removed a few loose new nets and took

some pictures of the intact bridge and instruments just in case we get

accused of raping her again.

The next part of the plan went a bit pear-shaped, both of the two other new 'half-way home¹

marks turned out to be fully functioning ships anchored in

the oil fields, not sunk at all - I think a translation problem was to blame.

Instead of diving in the mud again we travelled north to the Tottori Maru

and finished the trip there, such a good idea we may do it each time now.

Congratulations to five new Trimix Divers and one new Trimix Instructor,

especially to one guy who learnt to dive over a year ago so he could

eventually visit the Lagarto.

Next long range trip is to mid -gulf, Seacrest, Tottori Maru and others,

leaves August 1st , spaces available.
Yours, Jamie Macleod
MV Trident Shipwreck Research Vessel
---
Latest Report:- Shipwreck 'Akela' found.
Discovered:- 29 April 2008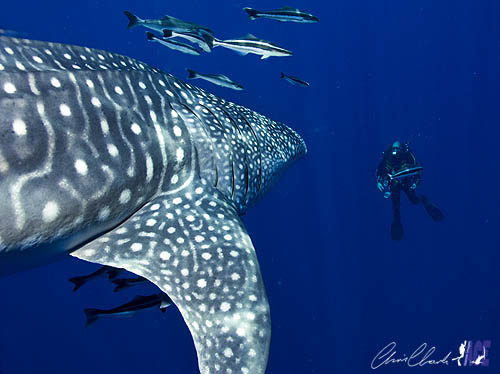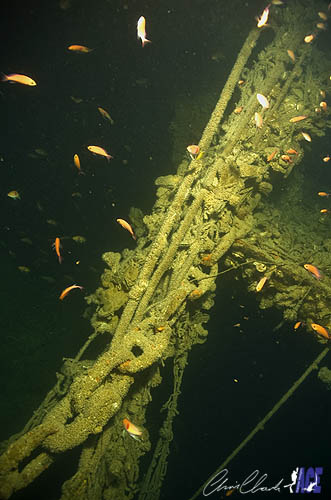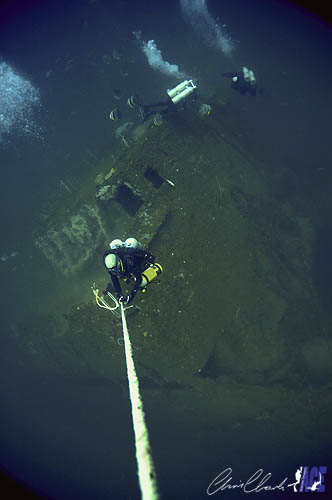 All images above, copyright of Chris Clark www.acemarineimages.com 'used with permission'
Akela Wreck Listing report
Dear Divers,
We've just returned from two US charters organized by Richie and Carrie Kohler.
Our first crew were from New Jersey - used to diving cold water and strong currents so Thailand was going be easy for them.
We started with a wreck we knew, the Nanmei No5 Maru and then moved on to a mark we hoped was going to be the Araosan Maru. We found a large freighter sitting upright but she was a bit too new to be a WW2 Maru.
Dan Bartone, skipper of Independence II, an Atlantic wreck diving boat, lifted the telegraph made in a Dutch yard in the 1950's. Evan , Deep Sea Detective cameraman, found the bell marked 'Akela' - his first. According to the NJ divers it's tradition to kiss the captain's arse if you want to keep a bell - a tradition which MV Trident will try and preserve.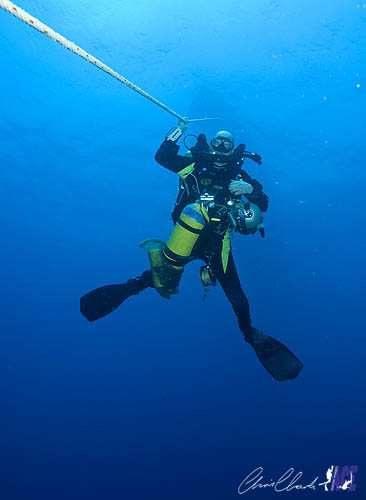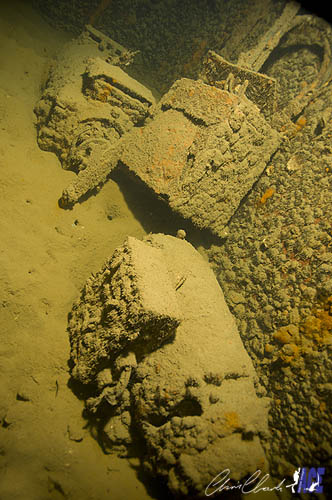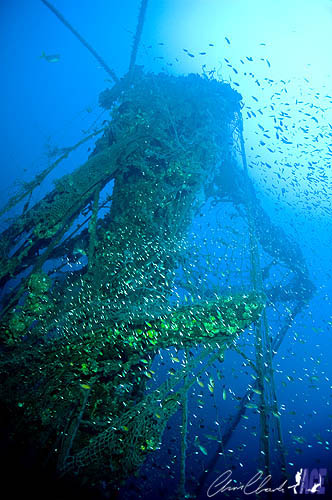 After 4 dives on the Akela ,pictured above, we moved on to one of our favorite wrecks , the Tottori Maru for 4 more dives and one more telegraph, and then back overnight to Samui.
Two days later we picked up our second charter, a group of divers mostly from the Great Lakes, and Alberto- all the way from Mexico.
After an overnight steam we arrived at our newly found Seacrest wreck, and tied into the moon pool at 50m an easy entry in to the wreck. After only one dive on a 'nearly virgin ' wreck, the group decided to gamble and try a new mark 50nm further east - a 'real virgin', but a good chance of missing a lot of dives if it turned out to be nothing.
This mark was nearer to the Hardhead's position of Araosan Maru, the farthest we've been east and the first time into Cambodian waters.
We arrived at 8pm and after a brief search hit a large target on the sounder. First thing in the morning we tied onto a huge upright freighter, wheelhouse amidships, five levels of accommodation, telegraph, helm all in place - but again, post war. We have no ID for this one so we're going to call her SS Carrie, after Carrie Kohler . Yet another telegraph told us this was an Asian vessel, I think made in Japan, operated by Taiwan or Hong Kong.
After two days here we dropped into see the Tottori Maru again and had some great dives. Richie and Evan made a positive ID of the Tottori by finding the name on the bow. On the last day we were visited by a very friendly whale shark to help break up the deco - a first for the Great Lakes lads.
In total we completed 260 deco dives, all 70m plus, mostly CCR. We steamed 560nmiles, breathed 90,000L of Helium, 120,000L of Oxygen, used 200K of sodasorb and drank 40 cases of Heineken.
On the last day we picked up two new marks for the Araosan, one of them only a few miles from Hardhead's mark, next time we'll get her, I'm sure.
Yours,
Jamie MacLeod , MV trident Shipwreck Research Vessel
---
Mystery Marus
Dozens of Japanese 'Maru' or large commercial transport vessels were sunk in the Gulf of Siam and South China Sea during the latter stages of WWII. Most were sank as a result of American submarine action and Allied Forces aerial bombing runs from India.
Gentlemen; Some of these vessels are HUGE and will need several dives just to get a feel for them. !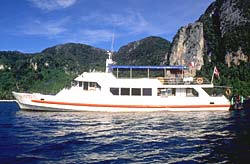 From Jamie Macleod, Master Divers, Koh Tao
Commencing May 2005, Thailand will have it's first live aboard dive boat dedicated to visiting many of the unexplored wrecks of the Gulf of Siam. Jamie Macleod of Master Divers, Koh Tao will sail the M.V. Trident from Phuket to Koh Tao during May, visiting many of the famous wrecks that lie in the Malacca straights plus others in the Gulf of Thailand such as 'The Prince of Wales', 'The Repulse', 'The Seven Skies' and more. Any crazy deep wreck divers with a taste for unlimited fun in deep waters on virgin wrecks are welcome. Backpackers and Bullshitters are not. Expect to part with a fair amount of sausage to get on these super trips.
LATEST News from MV Trident - March 2008

Finally the bad weather has passed and the boat is finished , for time being at least, and we're back to work.
We've just returned from our first long range trip this year , to the Tottori Maru. This wreck is getting better and better , we'll be finding new areas on this one for years. Have a look on www.techthailand.com for some pictures.
We have a few shorter trips planned soon , a great trip back to the Hammerhead's victims on March 16th, then a busy April.
There are still a couple of places left on Kohler's April 3rd charter too. May is shaping up, two trips either 8th -11th, or 20-23rd.
Keep an eye on our Trip Schedule page for updates,
Yours, Jamie Macleod
+++++++++++++++++++++++++++++++++++++
8-12th September 2006 Wreck trip-update
The MV Trident Shipwreck research Vessel is organizing an exploratory trip to the east of Samui into the Gulf of Siam departing on the 8th October for four days. The main target is the Sakura Maru, 7000 ton passenger cargo sunk by USS Hammerhead,
This trip is nearly fully booked with an international cast of 'the usual suspects – 2 places are still available only at the unusually affordable price of only THB 30,000 per inmate, depart Koh Tao evening 8th October, return evening 12th October 2006(if you're lucky), guaranteed virgins – and you know how rare they are in these parts.
Also…a new find; a new steel wreck, approx 1000 ton, 3 nm from 'Southwest pinnacle'(Koh Tao). This will be visited by MV Trident during the next few days for more exploration/penetration and a good sussing out. Only 37m to the sand. A 'lady-boy' dive.
Interested Divers experienced in decompression diving please contact:
Jamie Macleod info@masterdive.org Tel: +66-77-456314 Fax: +66-77-456765.
Contact Jamie Macleod
---
Wreck Diving Trips
P38 Lightening Wreck (Koh Tao)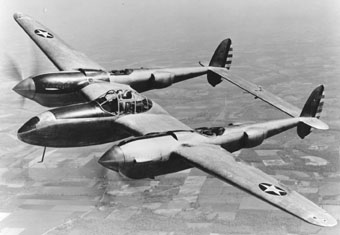 ( Picture courtesy of http://www.jetplanes.co.uk )

With regards to our telephone conversation earlier today, you will find attached a picture of what we believe to be a part of the landing gear of a P38 lightning bomber. This was located in the following coordinates 10 54 608N 100 22 217E, on an expedition set up by Davy Jones' Locker, which is owned by Tim Lawrence and Charlotte Ragnarsson. We had two teams diving on her. The wreck itself is intact as far as we can see. We cannot confirm that the cockpit is open as there is quite heavy netting in that area. Most of the wings are intact although the propellers on the engines are missing. At the present we have sent off the pictures to the American Air Force to see if we can find out any information regarding the pilot and the mission she was on. If you click on to this site http://www.jetplanes.co.uk/vintageaircraft/p38.html , you can get some info on the P38.

The expedition set out on the evening of the 18th of June, arrived at 07.00 AM on the 19th of June. The teams were lead by Tim Lawrence and Milo Duben. Our phone number is 077 45 62 16 or 079 70 09 13, we keep you informed of any information that we can get back from any of the agencies that we have contacted for confirmation of the type of plane and any information of the mission she was on and the pilot involved. We plan to go back there in a week to clear the netting on the cockpit.

Thanks for your interest,

Best wishes,

Tim Lawrence at Davy Jones' Locker, Mae Haad, Koh Tao. Tel 077-456216

---
New wreck site, hidden for 20 years!
Information Kindly sent by Khun Pichit Muangnapoe
22 April 2004
Located in the middle of the gulf of Thailand. H.T.M.S. Pattini, H.T.M.S. Phali, and H.T.M.S. Nongsarhai, Three Royal Thai Navy battleships were sunk as target ships during the 70's and 80's. Only 3 hours cruise from Pranburi, recreational SCUBA divers can enjoy rich marine life and thrilling adventure of wreck dives.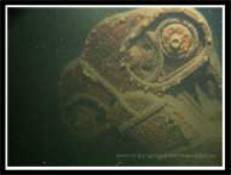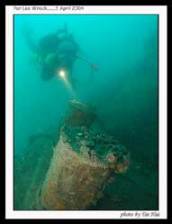 Navarat Cruise:

Phatara Marina, Paknampran, Pranburi, Prajuabkhirikhan, Thailand
---
The last British Warship sunk in WWII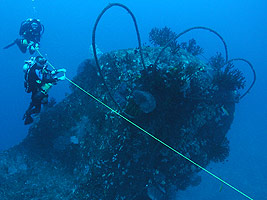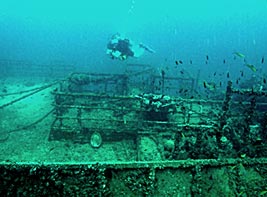 Dive tours to the HMS Vestal wreck - the last British warship sunk in World War II - lying at 70m depth - discovered by 'Deep Blue Divers' only two years ago -We recently discovered a further wreck: the SS Petaling - a steamboat built in 1928 in Singapore lying up right at 60m depth off the western Phuket coastline. During the high season 'Deep Blue Divers' arrange trips to this wreck and to the HMS Vestal every two weeks. for more information please contact then by email at info@deep-blue-divers.de address it to the boss Mr. Andreas
vestal & Petaling Wreck dive update ...28 Nov 2004
We plan to dive the Petaling on Monday the 29th of November and The Vestal on Friday the 03th of December. For those of you who like to join us on that trip please make a reservation. If you need any tanks filled or rental tanks let us know soon as possible for better coordination. We have to keep the option to cancel the trip the day before if the weather is to rough.
The cost will be 4000,- THB per person including food and soft drinks but not tanks or rental equipment.

Hope to here from you.

Best regards, Joerg.

Deep Blue Divers
47/1 Moo 4, Soi Serm Suk
Muang, Rawai
83100 Phuket
THAILAND

Andreas Donate Tel.: +66 (0)1-5362704
Joerg Zebisch Tel.: +66 (0)9-8662361

Fax Germany : 01805-39160 51322
Fax Thailand: +66 (0)76-280146

Email: info@deep-blue-divers.de
http://www.deep-blue-divers.de
---
2005 Repulse & POW Trips with MV Grace
From: Greg Doyle mailto:gxdoyle@penetrationdivers.com
Hi All,
In 2005 we currently plan to run six (6) ten (10) day trips to the Repulse and Prince of Wales. The dates for the trips are as follows: The retail price for the trip is fixed at S$ 3,5000 / US$ 2,000 and there is an option of doing only 5 days (the first or second 5 days of each of the scheduled trips) and the price then is S$2,000 / US$ 1,145. Unlike 2004 Helium and Oxygen will be extra charges (since it is now a 10 day trip at the same price as 2004's 5 day trips) and will be priced as standard mixes on a 'per-dive' basis. Each trip has 10 full day's diving of which 8 will be technical on either Repulse or POW and 2 will be at recreational depths.
The trip dates are selected to take advantage of the best weather conditions on the wrecks (based on this season's experience)
Mar 6 - Mar 17 Repulse / POW (10 Days)
Mar 20-Mar 31 Repulse / POW (10 Days)
Apr 10 - Apr 21 Repulse / POW (10 Days)
Aug 14 - Aug 25 Repulse / POW (10 days)
Sep 11 - Sep 22 Repulse / POW (10 days)
Oct 9 - Oct 20 Repulse / POW
If you want to organize a charter outside these dates please let us know as soon as possible as we are in the process of confirming next season's schedule, after which new charters may be difficult to accommodate.
---
Gulf of Thailand 'Large Deep Wrecks trip" January 2004
The trip will leave on the evening of the 14th of January (around 7-9 p.m.). We will meet here in Pattaya and I will have taxi's to take people to Samae San, Chonburi, Thailand. We will do a dive on Saturday on a WW2 wreck that has large bombs on it.
The wreck is at 60-62 meters deep, Trimix will be used for the dives. On Sunday we will dive on either another steel wreck or possible a pottery wreck in the 50-60 meter dive. The cost of the trip 14,000 baht plus tanks and helium. We should be back in Pattaya around midnight of the 16th. Water and food will be supplied on the boat. Any soft drinks or munchies you can bring and put in the cooler.
I.T.#47 ANDI
---
Haguro, Myoko, Kuma, Sun Vista trips
Just an enquiry to see if you'd be interested in joining up with us for some wreck expeditions outside Penang, Malaysia, on some very rarely dived but really interesting wrecks sometime in Jan April 2006.
We will do Haguro, an upright Japanese heavy cruiser in 64msw, Japanese heavy cruiser Myoko in 80 msw, Japanese light cruiser Kuma in 45 msw and the massive luxury liner Sun Vista in 65 msw. We also have some carriers and almost a dozen submarines in the area.

As Penang is not that far from Phuket I'd think you'd be a bit interested. You can basically just load up your gear and drive down over half a day.

We also do regular visits to the HMS Repulse, HMS POW etc on the east coast (a bit further to go). More info on our website.

best regards,

Erik Engberg
Director

REC 'N TEC Sdn. Bhd.
10-1, Jln 22A/70A
Desa Sri Hartamas, Kuala Lumpur
Tel/Fax: +60 3 6201 4726
H/P: +60 19 700 9387
http://www.recntec.com
---